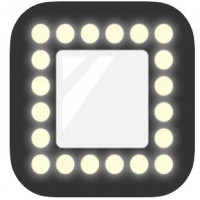 Mirrorio
Rating: 5.00 (Votes: 2)
Get to know how to use Mirrorio app and whether it's good for you. The pros of mirror light and borders on your makeup pictures online
Mirrorio app is totally loved by beauties and Instagram models. It has all the wide range of tools an attractive person may need for blogging or private needs.
Daily makeup assistance, awesome framing of your pictures, extra light for prettier photos, Mirrorio makes sure you are provided with all that.
For just a short period of time, Mirrorio has gained over 3.5 thousands of high ratings. Not just it is explained by the awesome concept, but also by great organizing.
Developers indeed made sure all works in the most convenient way and technically perfect.
Last updates on Mirrorio
Users of the app already know that Mirrorio keeps on adding new features even further. For now, it offers video recording with extra light, ultra new frames, and 30xZoom.
It's all in addition to basic functions already loved by users. Mirrorio doesn't repeat the tools found in other apps, many are unique.
They are developed with the thought about its audience. Users admit they highly enjoy Mirrorio opportunities and their looks online as a result.
Who is Mirrorio for
The app is widely used by many categories of people. Sketch Makeup feature is mostly loved by teens, while mirror light for makeup is used by all women on daily basis.
It would be wrong to think this kind of apps is for females only. Times are changing and we are moving away from the very strict gender differentiation.
Men often use Mirrorio for their stories and posts about healthy lifestyle, proper diet, or sauna reports. Everyone looks cool with its help.
Mirrorio and kids
The app is named one of the best platforms for 4+ kids in 2022. It distracts them from more harmful online and offline activities, and entertains them safely.
When trying different frames and borders, editing their fun selfies, and playing with Zoom or mirror light, a kid is kept busy and happy.
No parental control is needed on this particular app, and this makes it so loved by parents and frequently chosen by them for children.
In case with girls, such games help form their femininity early and give them a feeling of confidence. The app also develops aesthetic taste.
Mirrorio for Instagram
Insta usage remains the main purpose of Mirrorio. Its features are just too convenient for creating posts, stories, or ads, and for staying beautiful.
If you're a beginner in Instagram and want to catch as many new followers as possible, Mirrorio is one of the crucial tools for that.
Impress with your appearance and modern effects, remain super shining and visually perfect with Mirrorio.
It's the best guarantee your audience will grow fast without much investing or unnecessary spending, no matter what you promote on your page.
Mirrorio for Facebook
FB is a second largest social network used for personal contact and commercial needs. So, Mirrorio is of great help there too.
If you're a speaker or online tutor, people shall perceive you more positively with cool photos and videos made on the app.
Good makeup needs good technical conditions and extra comfort which Mirrorio fully provides.
Yet, with or without cosmetics we still need some light editing to be done on eventual photos. Which this app offers as well.
So, make your FB business page or personal posts way brighter, and enchant potential buddies or clients with your flawless charm.
Sketch Makeup feature
Some options of Mirrorio are truly surprising and shouldn't be underestimated. Sketch Makeup isn't meant for entertainment only.
It helps create great creative illustrations to makeup tutorials so popular today, and opens wide artistic opportunities for designers.
Poster-styled and retro photos remain highly popular, people pay to specialists to make their portraits look this way. Mirrorio does it for free or cheaply.
Whenever you feel bored or in need for visual tools to make your blog more personal, choose this app and get all the variety.
Reasons to use Mirrorio
As technologies improve and iPhone photos get so highly qualitative, more sources are needed for working with them.
Sharp and super clear, iPhone and iPad selfies are flawless and it only gets better with each newer version.
Mirrorio is created exactly in tune with this new generation quality, and it responds to all modern requirements.
By adding more light or some design effects, users enjoy contemporary technologies more fully and can benefit from them.
Is Mirrorio good for camshare and streaming
The app is totally suitable for camshare so actual and popular today. Many streamers and bloggers do this for living, and others for fun.
So, once it's your business or dating activity, why not raise your level? Be sure that Mirrorio is your assistant number one in that.
Better looking personals get more profit, while this app is totally inexpensive and affordable. But it's also about social appreciation and new admirers.
From amateur Insta coaches to bold OnlyFans models, everyone is satisfied with great Mirrorio services and tools.
Modern apps like this one are vital for people's personal and professional progress.
Is Mirrorio safe
There's literally nothing risky or harmful about Mirrorio. Some other products of this developer may practice data collecting for technical needs, but not this one.
Personal info isn't taken or stored in any way. The app doesn't track its users' location or phone contacts.
Photos can be an intimate thing. They aren't misused by the app or any third party. One can be sure all his images are safe.
On another hand, Mirrorio doesn't cause the bugs or glitches, it is technically stable and reassuring.
Mirrorio and Tinder
Tinder-mania still rocks today, and users grab all possible means for succeeding there. Tinder principles of work are greatly based on visual perceptions.
With such a huge competition in any given location, extra powerful tools are needed. Mirrorio is one of them.
Make your profile photos and video presentations a bit brighter and fancier, then you will succeed on any dating app.
The main advantage is focusing on one's natural hotness and making it more obvious, instead of turning artificial.
Lots of models and regular users report quicker results on Tinder after improving their photos and videos with Mirrorio.
Is Mirrorio good for teens
In the era of parental control, even innocent apps like Mirrorio can be questioned. Some parents claim it's not healthy to get fixed on the appearance.
While all modern marketers are saying the opposite. The sooner a young person will learn to present himself or herself to others, the better it is for them.
Appreciation by people around is an important social value and asset. Mirrorio teaches that in a soft manner.
Show your pros, hide your flaws, get creative with your pictures, and people will notice you. It's simply normal today to be handsome.
Good looks is associated with health and being well-groomed, isn't that what we expect from our children after all?
So, do not follow the negative pattern that apps like Mirrorio provoke a shallow attitude and selfishness. In fact, they raise one's self-esteem instead.
To summarize, this application is harmless for teens and all other age groups. It encourages to get more social and skillful in all areas.
Can seniors use Mirrorio
A huge part of makeup market and blogging is dedicated to mature skin treatment. It's really an actual and dynamic field of studies.
In addition, modern seniors are staying active much longer than previous generations. It's ok to be a model at 60 or a makeup coach at 70.
It especially comes to lifting procedures, anti-age technologies and stuff. Hundreds of such specialists choose Mirrorio.
Senior users have their own preferences different from what youngsters do. Instead of sketch makeup, they do use mirror light and framing a lot.
So, if you want to make your older ones happy, do that via Family Sharing or help them install Mirrorio by themselves.
The cons of Mirrorio
The app reviews are normally reflecting the disadvantages too. But in this case, there's nearly nothing to say.
Again, 6,5K positive ratings is a very impressive number, and it keeps growing every day. It might grow way bigger after posting this review.
Such a big level of trust is connected with strong technical side of the app and its multiple features, along with the low price.
The only thing that dissatisfies the most demanding users is a limited range of features. Creativity has no end, and artistic folks would like to do more.
But this temporary flaw is to be solved, and the Mirrorio team already shows its pro-activity in this regard by frequent and considerable updates.
Features and assets not available on similar apps will soon surprise the audience and reduce impatient requests from picky users.
The don'ts on Mirrorio
Although it's easy to get blown away by the new modern possibilities and automatic photo improving, it is recommended to stay reasonable.
If you need Mirrorio tools for official needs, keep it neutral and use mirror light instead of heavy effects or over-editing.
But if you feel depressed or down, entertain yourself to the fullest and get extra features for a symbolic amount.
Posterize your pictures, apply the cartoon filter, or use any other option to cheer up others and yourself.
Just make sure not to cheat or trick the others on purpose, with the help of Mirrorio filters. It may cause complaints or bad reviews from them.
What to expect from Mirrorio
A good thing about Mirrorio is that new upcoming opportunities are endless. The developer is known to be extremely creative, and initiative.
It leads to multiple surprises such as new filters, borders, frames, more powerful zoom and light.
Not only models and bloggers but all categories of users would love that. Remember the Mirrorio rule, no one is better than you.
It indeed helps everyone feel unique and admired. Some therapists even recommend Mirrorio as a popular anti-depressant.
So, even if you're very demanding and artistic, and your standards are high, you can be sure the app will suggest a lot of new thing you crave.
Mirrorio tutorials and guide
The app is super intuitive, and there's no need in additional explanations. Even a kid can manage dealing with it.
Still, there is a very understandable step-to-step guide once you install and open Mirrorio. You will see there's nothing complicated.
Depending on features that interest you, click on according buttons and blocks and follow the tips you see. It's easy and convenient for newcomers.
This is how you are growing to be a professional together with Mirrorio, and your new skills in photo editing, makeup, and design are growing too.
Based on 2 Votes and 0 User Reviews
Other Apps in This Category