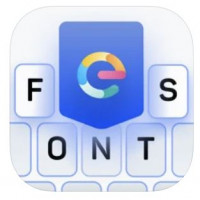 Fonts Keyboard, Emoji: eFonts
Rating: 0.00 (Votes: 0)
Enjoy eFonts keyboards and styles for your iPhone or iPad. Get the best fonts awesome and text styles for your gadget to keep it modern
The market of unique fonts is rapidly growing, but still some particular developers manage to stay out of the crowd with their cool text designs.
eFonts is definitely among them. Easy to use and original, it gathers over 500 positive ratings on its page. It's really a discovery for those interested in texting update.
TikTok fonts
Reportedly, the app is often chosen for its TikTok keyboards. This powerful social platform isn't just a favorite playground for teens, but also a great commercial tool.
Attracting the audience became a powerful asset that affects all activities online. One can be sure that with eFonts, he will succeed way faster and gain a lot of followers.
Funny fonts

Fonts awesome

Handwriting fonts

Romantic fonts

Block fonts
All these, and many other ones can be very much in use when connecting people on Tiktok. Make funny subs and inscriptions, chat with your followers with the help of eFonts.
Colorful keyboards are especially recommended to TikTok lovers as the best eye-catcher and promotion tool. It is already proven that exactly eFonts styles work efficiently.
Facebook fonts
It may seem that Facebook is slowly losing its positions comparing to newer social networks. But many categories of users are still using it very actively.
Facebook personal blogs and business pages are in need for great fonts that would make one's message or information more impressive.
eFonts makes sure all these needs are covered. Whether you are an older user who still adores using FB, or a younger personal promoting his services there, the app will help.
Vintage fonts

Tattoo fonts

Aesthetic fonts

Classical fonts

Elegant fonts
Surprisingly, these styles are the leaders on FB, and eFonts does provide it within its huge library. Optimize your FB posts and Messenger communications.
Like in old times, Facebook is still used for manifesting users' personal relationships and family connections. eFonts keeps things festive and well-decorated.
Instagram fonts
Among other social networks, Instagram might be the most creative and career-focused one. Free keyboard apps like eFonts are assisting Insta users a lot.
They add to the existing Instagram styles and tools making one's posts, stories, andmessages the most noticeable.
It's a great addition to Insta ads, hashtag promotion, and other instruments of catching the audience's attention.
Make your Instagram performances, speeches, and blogs really memorable with eFonts.
Telegram fonts
Telegram is one of the most loved apps for its proven security, simplicity of use, and many helpful features. It is extremely popular both for professional and personal communication.
For many, it comes as a surprise that Telegram usage can be made more entertaining. For now, however, it doesn't offer a wide assortment of emoji or cool fonts built-in.
eFonts helps solve that with its huge keyboards menu and a wide choice of extra texting tools. Make your TG connections brighter.
Widely used by public personals, business owners, millenials, and middle-age folks, Telegram may have pretty serious purposes.
So, just equip it with free eFonts keyboards, and win over your audience again.
Skype fonts
Ever felt too limited by a small choice of Skype symbols? Chatting on Skype is mostly business-like, but it also serves buddies and relatives.
No wonder users do want some variety. Well, it is achieved now with eFonts keyboards and backgrounds. New emoji are included too.
Do not let people you communicate with, get bored or bitter. There are so many ways to entertain them and add some colors to your talks.
Try eFonts and see how it changes and improves your given or reveived lessons on Skype, job interviews, and flirtatious connections.
WhatsApp fonts
It is hard to imagine now that people didn't use WhatsApp a few decades ago. It indeed became a part of our daily life and activities.
Whether it's a romantic encounter, friendly chatting, or business negotiations, this messenger is perfect and trendy for all purposes.
So, just add some spice or some prestige with the appropriate eFonts keyboards. You are going to love their looks and impact.
Conversations get more dynamic and animated, discussions get more exciting, not to talk about sexting. eFonts app is great for all that.
It offers a real big bunch of professional fonts that can be used either for fun or for serious stuff such as designer works and more. That's quite inspirational.
The majority of features are free, it is fairly eye-pleasing, and it is recently launched with enormous potential. All that guarantees eFonts is the most modern font tool.
Where to use eFonts
It is proven we can feel down or happy, inspired or discouraged, motivated to urgently purchase smth due to visual effects. It can also be said about the fonts we use.
When combined with certain backgrounds, cool fonts are affecting our minds a lot. It can be easily checked on examples of the online book or the blog reading.
eFonts are providing all the keyboard alternatives for young bloggers, online sellers, authors and simple users. This is how they impress others.
In various messengers and blog portals, unique and original keyboards of eFonts work just fine. Beautiful and various, they entertain and help keep the focus.
Texting can be done in between of any activity, in anyone's presence, it has a pleasant secretive side and brings the feeling of being constantly needed by smb.
So, keep things going with eFonts and your communications will get even hotter.
Is e-Fonts teen friendly
There are no keyboards on e-Fonts that would be provocative or explicit. Instead, some are playful and contain amusing hints for sure.
Which fonts can be called sexy? Glamorous, diabolic, hand-written, girly, curvy, and flowerly ones. Or those with big letters combined with human silhouettes.
All of that and more can be found on special font changer applications such as e-Fonts. Teenagers do use them for sexting, but they're also great for friendships.
eFonts age range counts from 4+, so the app is totally harmless even for the youngest kiddies. Everyone would find the keyboards and elements in it that suit them.
The pros of eFonts
Chatting is always fun. On your new iPhone, it is double fun. But what if you use the fancy fonts and awesome emoji to make your conversation brighter?
It is recommended using as newest apps as possible, as even popular ones, in case they aren't regularly updated, may contain less progressive fonts.
While modern fonts can be combined with symbols, emoji, letters with smileys, geometric and other shapes.
eFonts definitely unites all these styles and elements offering them for free. Only the best designed and original fonts are considered Premium features.
To summarize, the app eFonts is friendly toward all users' categories and provides cool fonts at no cost. It is neat, trendy, and nicely organized.
Is eFonts app good for designs
Aesthetic fonts are the most refined and creatively designed ones. There are special reasons why we are choosing them, and special solutions to our online situations they bring.
These best fonts are accompanied by the high-style backgrounds and elegant frames. It makes the good impression complete and creates the whole impression of great quality.
Which texts are written with these fonts? They are extremely suitable for the postcards. So, if you congratulate a special person, use aesthetic fonts.
Beautiful fonts are a number one choice for mature people who know how to court and be gallant. Find dozens of them on eFonts.
With such a big variety of aesthetic styles, one can be sure he'll express himself the best and enjoy reading, posting, or texting more than expected.
Is eFonts good for the eyes
Some fonts can be hard to look at. Complicated decorative fonts seem to only add to the tiredness of our eyes. Surprisingly, others are created for improving our vision.
These healing kinds of fonts can be found only in the newest font apps, and were primarily developed for children or seniors. Today, they are helping to all of us.
As to eFonts, the majority of its text styles are harmless for the eyes. If unsure, choose soft green or neutral colors good for your vision.
It never promotes or includes to its galleries aggressively looking keyboards. On the opposite, parents and seniors' caring relatives have many options to set for a sensitive eyesight.
What can I do with eFonts
One can set a nice background for his keyboard, add new images, symbols, and smiley on eFonts. It's very convenient.
To get even more fonts and emoji on your iPhone, install this app with new fonts. They will become automatically reachable from other apps.
This additional opportunity makes one's communication limitless in decoration with different elements, expression all kinds of emotions and desires.
How to attract girls with eFonts
If you apply cute or heart-shaped romantic fonts for a girl's name, chances are high to be chosen by her over other guys. She is going to be flattered and excited.
The same trick can work for the phrase inviting her out. The research shows single girls simply cannot say no if they see such a beautiful sex offer in the chat.
Feel free to enjoy these benefits of beautiful fonts on this app, eFonts. It is only rare that an assortment of cool keyboards is so breathtaking.
Judging by the users' delighted responses, eFonts succeeds in offering the most seductive and cute styles conquering girls' hearts.
Reasons to use eFonts
Creativity is impossible without stylish fonts. Use them for decorating anything, and frame your text nicely if you write any special post on social networks. It'll look fun and joyful.
Do not underestimate the trendy keyboards on eFonts. Some look quite elegant and others funky. So, it's truly worthy of joining and trying anyway.
Eventually, fancy symbols are the ones to improve the mood and make your day much brighter. It explains the popularity of eFonts among many categories of users worldwide.
As users admit, the app is innovative in its own way, doesn't take a lot of space, and is totally easy to use at all times.
Is eFonts worthy of trying
The app keeps on getting quite a lot of positive reviews, which is surprising from a demanding audience that likes criticizing.
They are mostly happy about a big number of free fonts available, and their trendy design. Then comes low Premium price and its well-grounded reasoning.
Indeed, extra keyboards on eFonts are super attractive, and worthy of unlocking. The app isn't glitchy and basically meets all expectations.
Based on 0 Votes and 0 User Reviews
Other Apps in This Category