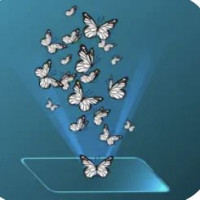 Hologram 3D: The Ultimate Virtual Reality Simulator
Rating: 0.00 (Votes: 0)
Hologram 3D is an innovative application that allows users to experience virtual reality like never before, with a diverse range of virtual animals and cool AR models.
Hologram 3D: The Next Frontier of Virtual Reality
Virtual reality (VR) technology has come a long way in recent years, with the rapid development of new applications, software, and hardware. From gaming to education, VR has opened up new possibilities for immersive experiences that are both entertaining and educational. One of the latest additions to the VR ecosystem is the Hologram 3D application, which takes the concept of virtual reality to the next level.

What is Hologram 3D?

Hologram 3D is a unique virtual reality simulator that allows users to interact with a wide range of virtual animals in 3D space. The app uses augmented reality (AR) technology to create a realistic and immersive environment, allowing users to experience what it would be like to interact with animals like lions, tigers, and gorillas, without leaving the comfort of their own home. The app also features 3D models of various cool AR models, such as spaceships, robots, and dinosaurs, that users can interact with in the same way as the virtual animals.

The User Experience

One of the standout features of Hologram 3D is the user experience. The app is easy to use and requires no special skills or technical knowledge. Users can simply download the app, place their phone or tablet on a flat surface, and start exploring the virtual environment. The app uses the camera on the device to track the user's movements, allowing for a seamless and intuitive experience. Users can also interact with the virtual animals and objects using touch gestures and other intuitive controls, making it easy to get up close and personal with all the cool AR models.

The Range of Virtual Animals
One of the most impressive aspects of Hologram 3D is the range of virtual animals available to users. From big cats like lions and tigers to primates like gorillas and orangutans, the app offers a diverse selection of animals that users can interact with. Users can observe the animals from a distance or get up close and personal, observing their behavior and movements in a way that would be impossible in the wild. The app also features educational content that provides information about each animal's habitat and behavior, making it a great tool for teaching children about the natural world.

Cool AR Models

In addition to the virtual animals, Hologram 3D also offers a range of cool AR models that users can interact with. These range from spaceships and robots to dinosaurs and much more. The app uses the same AR technology to bring these models to life, allowing users to explore and experiment with them in the same way as the virtual animals. Users can take screenshots and record videos of their interactions and share them with friends and family, making for a fun and engaging social experience.

Conclusion

Hologram 3D is a truly innovative application that takes virtual reality to a whole new level. With its diverse range of virtual animals and cool AR models, the app offers an immersive and engaging experience that is both fun and educational. If you're looking for a new way to experience virtual reality, then Hologram 3D is definitely worth checking out.

Based on 0 Votes and 0 User Reviews
Other Apps in This Category