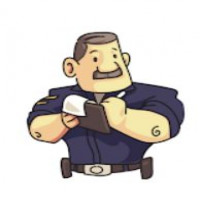 WTMP – Who touched my phone?
Rating: 0.00 (Votes: 0)
Get to know why the WTMP app is the best for you and how to use it to your utmost comfort. Protect your Android from thieves and relatives
The app WTMP by Brilic Media LLC is gaining bigger popularity now. The platform is cool, powerful, useful, and glitch-free.
Once you need your Android phone to be protected from thieves or annoying family members, simply install WTMP.
It has all the stuff inside to ensure your gadget is out of trouble and some excessive control. It's something everyone may once need.
The intruders' gallery
It's not rare that our partners or roommates are getting curious about our texting with others or our phone content.
Even if you've got dozens of neighbors and colleagues bothering you with their quest for personal info, be sure that WTMP will care about that.
In a special report section, it keeps the photos of each and every intruder who dares to unlock your phone without your permission.
By checking this section daily, you are going to expose and unmask your personal space breakers and set measures to prevent such misbehavior.
Anti-theft alarm
The best way to chase away the intruder or thief is to set the alarm option on WTMP. The loud sound will literally stun them.
Developers care to update the app regularly and potentially add new sounds. It'll strengthen the effect and make the platform more powerful.
By using the anti-theft alarm, the audience makes sure no one will approach their phone without permission.
Whether it's a family member, a colleague, or a stranger, he will be well warned that his actions are wrong.
Don't touch noise
In an addition to the loud siren the app suggests, there is a monotonous and funny don't touch noise making a person keep a distance.
It's a cool daily tool assisting you everywhere you go, as danger can come from various directions.
Both among well-known buddies and in a risky environment, such as crowded transport, one can be sure this simple option will protect his gadget.
Keep your phone with you in your pocket, backpack, or on the table. With the don't touch noise, it is safe and untouchable.
Original and unique features
Unlike many other anti-thief apps, WTMP by Brilic Media LLC is authentic. It does repeat a few common options but has original ones too.
There are no glitches or bugs typical for this kind of applications. Moreover, the sounds and widgets are being updated and improved often.
By installing and using WTMP, one protects his personal space and draws a border around his gadgets others aren't allowed to cross.
A modern and multi-functional, highly entertaining yet helpful platform is going to win you over from the first use.
Follow a simple guide and other users' recommendations if you want this high-rated app to bring you maximum convenience.
Based on 0 Votes and 0 User Reviews
Other Apps in This Category